Crossing a zonal geranium with an ivy geranium is possible and the results are often plants with some quite appealing qualities. One on hand, you have the zonal geranium with its continuous production flow of large flower clusters against the green, large foliage, on the other hand, you have the ivy-leafed geraniums with their trailing leaves and cascading blooms. Put both together and you may end up getting the best of both worlds. More and more varieties of geraniums obtained by crossing a zonal geranium with an ivy geranium are being produced and sold on the market nowadays with geranium lovers raving about them.
Crossing a Zonal Geranium with an Ivy Geranium
Crossing a zonal geranium with an ivy geranium brings several advantages. Zonal geraniums (pelargonium hortorum) are known for their appealing blooms, heat tolerance and productivity; whereas, ivy geraniums (pelargonium peltatum) are known for trailing habits which makes them wonderful for window boxes and hanging baskets.
However, despite being very appealing, ivy geraniums are not very tolerant of heat and humity, and therefore, may fail to bloom when temperatures rise (especially in the South and Southwest).
Zonals instead can see some improvement when it comes to showy blooms, length of stems and the shape and duration of the flowers.
By crossing a zonal geranium with an ivy geranium, it's possible to get the best of both worlds: eye-catching flowers with shorter stems and denser blooms and a better capability of handling heat.
Zonal and Ivy Geranium Crossings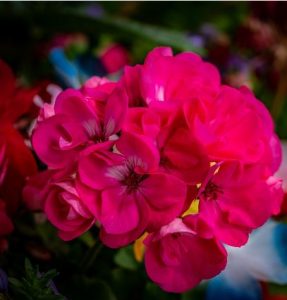 Zonal and ivy geranium crossings are known as "interspecifics" because they are hybrids that are produced by crossing two different species in the same family.
The first zonal and ivy geranium crossings were produced by a company known as Goldsmith Seeds, which is now Syngenta Flowers. It is thanks to hybridizer Mitch Hanes, who has invested time in breeding new varieties of geraniums since 1987, that today we can enjoy several wonderful varieties of zonal and ivy crossings. Hanes introduced his Caliente® line in 2006 and the Calliope™ type in 2010.
Caliente® geraniums work great for those living in areas of torrid heat and looking for unusually vivid flower colors. Introduced in 2005, these interspecific geraniums are heat-tolerant, boast appealing ivy-like foliage and come in many eye-catching hues.
Calliope™ geraniums, on the other hand, feature semi-glossy leaves, a semi-trailing habit and lots of brightly colored blooms. While all specimens are eye-catching, the most prominent variety is Calliope™ Dark Red which took Hanes 15 years to develop after performing 25 crosses. Joel Goldsmith, the president of Goldsmith Seeds announces: "It's the red geranium everyone has been waiting for."
Other types of interspecific geraniums include Galleria™, 'Double Take,' 'Salsarita,' 'Cumbanita,' 'Dixieland,' Boldly™ and Timeless™.