Maverick™ geraniums come in a vast assortment of colors, satisfying those folks who enjoy a kaleidoscope of shades in their window boxes. The large, colorful flower heads remind of the wings of butterflies in strike contrast with the dark green foliage. Seeds from this geranium type are readily available in many garden stores and nurseries, making these geraniums a common sight in people's balconies and gardens. Starting a collection of Maverick™ geraniums is exciting because you'll be gifted with an attractive palette of assorted colors.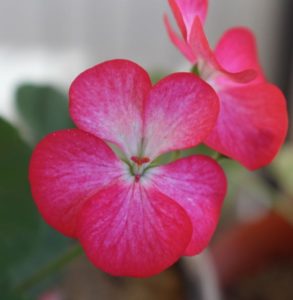 A Collection of Colors
Maverick™ geraniums are currently produced by Syngenta Flowers. They are zonal geraniums, and therefore, they fall under the scientific name of pelargonium x hortorum. These flowers are pelargoniums and belong to the geraniaceae family. Maverick™ geraniums are F1 hybrids that are highly Cycocel responsive.
If you want to start a collection of geraniums encompassing different colors, this generous geranium is for you. Maverick™ geraniums come in several colors including coral, orange, pink (with light eye), red, rose, salmon, scarlet, violet, and white.
In addition to these colors, there are several other geraniums varieties coming in unique hues and mixtures of colors that are worthy of describing because of their appeal. Although not very easy to come by, seeds from these flowers and plants are often sold in several magazines and websites.
Maverick™ Quicksilver features blooms of light lavender-pink which offer a delicate touch to any garden.
Maverick™ Star is a lovely geranium characterized by light pink petals with a hot pink eye in the center which gives this specimen quite some character.
Maverick™ Appleblossom offers large clusters of flower heads in delicate shades of soft pink in the center and white at the edges. These flowers are likely named this way because of their resemblance to the pretty white/pink blossoms produced by apple trees.
Maverick™ Salmon Confetti boasts blooms with a speckled pattern of deep salmon on salmon.
Maverick™ Scarlet Picotee and Maverick™ Violet Picotee, boasts blooms with picotee features. Picotee is a botanical term used to depict flowers characterized by edges of a different color compared to the base color. Where the areas meet, you may notice spotted areas almost as if colored with an airbrush. The term picotee derives from the French word picote' which means "marked with points. "
A Great Performer
The Maverick series is an outstanding performer in the garden, tolerating heat and humidity, which makes it particularly appealing to the Southern gardener.  Trials performed at the Dallas Arboretum, demonstrated that this  geranium series has been capable of tolerating the tough summers seen in Texas.
The plant is overall pleasantly compact with bright green leaves that are partially lobed and creased. The flower heads which are 14 to 16 inches high, have the potential to bloom from spring to fall. And when winter is around the corner, the plant can be taken indoors to enjoy some sun from a bright window.