The geranium bullseye™ variety is a geranium variety that offers the best of both worlds: eye-catching leaves and colorful blooms. This variety of geranium certainly stands out, mostly because of its strikingly distinct features. Indeed, this type of geranium is quite easy to differentiate from other varieties, even by the inexperienced. Geranium bullseye™ flowers come in different colors, but most specimens share the typical foliage that stands apart from other geranium types.  Following is some information and pictures of geranium bullseye™.
The Amazing Foliage 
Geranium bullseye™ are zonal geraniums, and therefore, they fall under the scientific name of pelargonium x hortorum. They are pelargoniums and belong to the geraniaceae family.
Goldsmith Seeds based in Gilroy, California is credited as the creator of this variety (now it looks like the company is known as Syngenta Flowers).
The most distinctive feature of geranium Bullseye™ is its foliage. As the name implies, just like a bullseye, the  leaves are characterized by a dark center edged with just a hint of light green. This creates great contrast which can be quite appealing to the eye.
The shape of the leaves share the typical features of most zonal geraniums, a scalloped shape with ruffled edges. The leaves are somewhat fleshy and exhibit veins which radiate from one central point on the leaf.
The geranium bullseye™ series is known for being quite a vigorous plant and a great advantage is that this variety is capable of retaining its dark foliage even under high light conditions.
The Geranium Bullseye™ Blooms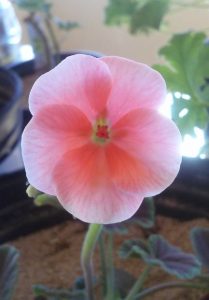 Bullseye™ geranium flowers come in a variety of colors. The large clusters of single flowers create quite a contrast with the mostly dark foliage.
Colors may vary and include salmon (as seen in the picture), coral salmon, cherry, light pink, red, and scarlet.
Flower heads are in large clusters that are very eye appealing. The compact plants look great whether in bedding or in containers and a great feature is that they are long performers, often blooming for the whole season long, from summer to frost.
Many gardeners report this dark-leaf variety being one of the easiest geraniums to grow.  The plants grow quite vigorous and have a higher yield success rate compared to other specimens they have grown.
The beautiful dark foliage provides an appealing backdrop for the pretty clusters of colorful flowers so why not give this pretty specimen a try? You likely won't be disappointed!